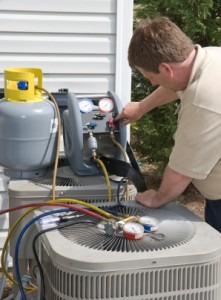 With the recent heat wave in Los Angeles, it's hard to believe it's barely Spring. If this winter has been any indication of what we have in store for us this summer, we're clearly going to be in for some scorching temperatures.
If you didn't turn on your air conditioner this past week, it's a safe bet that you're going to want to turn it on sooner rather than later. That means there is no better time to schedule your annual air conditioner service, with the experts at First Choice Air. Our technicians are all fully certified and licensed, and we never subcontract your services out to others.
Here's the top 5 reasons you should have your air conditioner serviced as soon as possible:
You Don't Want To Find Out It Doesn't Work, When You Really Need It!
Year after year, we receive calls from residents throughout greater Los Angeles and the San Fernando Valley who are in a panic. The mercury has risen, and they've finally had enough and try to turn on the air conditioner...and it won't work. Although we do offer 24 hour Emergency Service, you can prevent this uncomfortable situation by calling for a preventative service today. Serving Los Angeles and Ventura County for more than 16 years, First Choice Air provides maintenance and annual service for air conditioners by the best air conditioning manufacturers including Honeywell, Rheem, American Standard, GE, York, Amana, Rudd, Lennox, Carrier, Day & Night, Bryant, Goodman, Trane, and Payne.
You'll Keep Your Energy Bills Lower
Any way you slice it, the better your air conditioner works, the most cost-effective it is. When the air conditioner has leaks or cracks in ducting, you lose energy, and the air conditioning unit must work that much harder to cool your home. By having your air conditioning serviced we will be able fix leaks, cracks, and clean all filters to ensure maximum efficiency, leading to savings during the hottest months of the year.
You Can Prevent Significant Damage, And Therefore Avoid Added Costs
We all get our oil changed so that our cars continue to function, and so that we don't have to buy a new one often, don't we? A yearly air conditioning service works in the same way as a car tune up. By having filters changed, thoroughly cleaning the system, blowing away any dust, or spore build up, and making sure that all parts of your air conditioner are functioning properly will prevent significant damage, so that you can avoid additional costs.
It Helps Keep Your Indoor Air Cleaner
An annual service and cleaning of your air conditioner will clear away many allergens that build up in the system after sitting for months virtually unused. The expert HVAC technicians at First Choice Air will perform a thorough cleaning of your air conditioning system to make sure that the air being cooled and circulated through your home is as clean as possible.
You'll Increase The Lifespan Of Your Air Conditioner
Having an annual service on your air conditioner will help to make sure that the unit works for you and your family for years to come. Potential problems can be identified and corrected early, saving you from having to buy a new unit for many years.
First Choice is a full-service heating and cooling systems dealer, specializing in sales, installation, repairs and service, as well as heating and air conditioner financing. We are EPA certified, and approved by California League of Homeowners.
Contact us
today to schedule an air conditioning service throughout Los Angeles. We can be reached at 800.991.9247 or 818.781.4227.