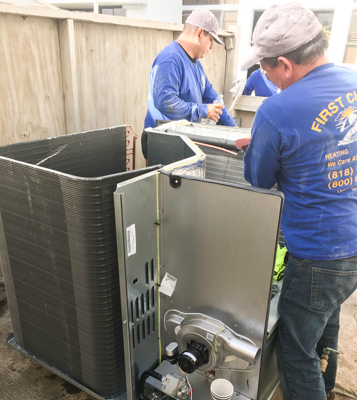 It is always rewarding, when we can find a solution to a heating problem. But a recent service call really reminded our team at
First Choice Heating & Air Conditioning
why we love fixing HVAC systems for our neighbors and friends. Here's how we dealt with a complicated furnace issue in West L.A.
A customer called, who really needed help. Their loved one was sick, and the furnace in their condo on Wilshire Blvd had died. However, because the condo was on an upper level of the complex, the new HVAC unit would need to be brought in via crane. Obtaining the permit to gain access to the street, could have taken months, to say nothing of the expense of renting a crane.
These obstacles had the condo owner understandably upset, and they were looking to us for a solution. As a locally owned, small business based in the San Fernando Valley and servicing the entire Los Angeles-SFV area, we truly value each and every customer, and we were determined to help. After a brainstorming session with our management team, and our licensed and certified HVAC techs, we came up with a solution, and proposed it to the condo owner. Our solution was to disassemble the HVAC unit, carry it up the stairs in pieces, and reassemble it on the roof. Then we were able to transport it to our customer's condo, and get the heat flowing once again.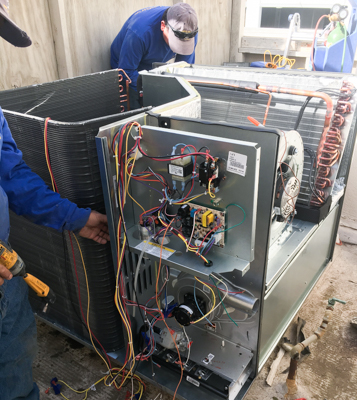 Though this type of job wasn't standard for us, at First Choice Heating & Air Conditioning, we welcome HVAC challenges. We enjoy thinking outside of the box. But most of all, we loved being able to assist a customer who truly needed our help.
At
First Choice Heating & Air Conditioning
, we aim to go the extra mile when it comes to providing top-notch heating and air conditioning service, repair, and installation. Despite the seemingly impossible obstacles facing our customer, in the middle of the February deep freeze, we were thrilled to be able to provide a solution, when a sick customer needed it.
As a locally owned and operated full-service heating and air conditioning company in Los Angeles, we strive to serve our community with fast, efficient, affordable, and - where necessary - creative solutions to keeping your home comfortable whether its nearly snowing in Southern California, or scorching in the summer.
F
irst Choice Heating & Air Conditioning
offers emergency, 24 hour service, new unit sales, repairs on all makes and models of furnaces and air conditioners, along with unit replacement. We are proud to be a Dave Lennox Premier Dealer, and offer a full suite of home comfort systems including thermostats, air purifiers and humidifiers. For a quote on a new HVAC system for your home or office in Los Angeles, or to schedule a springtime air conditioning service, please call 800-991-9247 today.
First Choice Heating & Air Conditioning
serves all of the Los Angeles & Ventura County. Our showroom is located in Van Nuys on Wyandotte Street.
As an EPA Certified Business, First Choice Heating & Air Conditioning is also approved by the California League of Homeowners. Weprovide new HVAC system sales, maintenance, repairs, installation and emergency service.
Contact us today to schedule your heating and cooling service at 800-991-9247