Furnace manufacturers recommend an annual inspection by a professional, also known as a tune-up. This type of service can vary greatly depending on the company and the extent of services they provide. Some interchangeable terms you may hear for a tune-up are: certification, check-up, annual maintenance and safety check. It's important to ask your local Southern California heating and cooling company exactly what they are going to do to your furnace during the inspection. Knowing what you're getting from the start will save you time, and ultimately money, both before and during the process.
"What happens during a furnace tune-up?"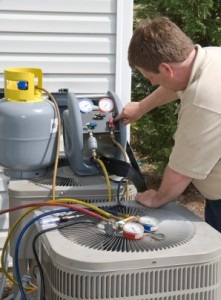 Here are a few things that manufacturers recommend be performed by an HVAC professional:
Wiring checked for damage
An amp-draw test on blower motor
Drainage inspected for blockage/leakage
Burners checked for ignition and flame
Heat exchanger inspected for rust and/or corrosion
Vent system checked for drainage/leakage
Filters checked
"If my furnace has a warranty, can I skip the tune-up?"
Although a tune-up may not be required to keep the warranty valid, most manufacturers strongly recommend an annual inspection by a heating repair specialist. In fact, damage due to improperly maintaining the unit usually isn't covered by the warranty.
"Is the tune-up worth the money?"
Yes! Don't forget, it's not just about safety, although that's reason enough. It's also about preventative maintenance, catching something going/about to go wrong before it becomes a serious problem.
As a full service, locally based and established Los Angeles area HVAC installation, repair and service company, First Choice Air will assist and guide you with all of your heating and cooling system needs. Our professional technicians are fully licensed, trained and experienced, eager to earn and maintain your trust and confidence.
Our showroom is conveniently located in Van Nuys, California. If you have any questions or would like to schedule an annual inspection, please call us at: 800.991.9247 or 818.781.4227