About First Choice Heating & Air Conditioning
Over 17 Years in Service to Our Community
Full-Service HVAC Dealer: Sales, Installation, Repairs and Service
At First Choice Air Conditioning and Heating, we understand that the dealer and installer you choose should make your life as comfortable as the equipment they install. That's why we strive to bring you the optimum combination of air conditioner sales, heater and furnace sales, including standard service, 24-hour emergency service, and most of all - value.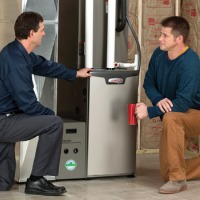 First Choice has been providing sales and service in Los Angeles and Ventura Counties for over 16 years. We are full-service dealer, specializing in sales, installation, repairs and service, as well as heating and air conditioner financing. We have the experience needed to tackle tough jobs, to do them right, do them quickly, and do them perfectly, the first time. We are EPA certified. We are approved by California League of Homeowners. We are licensed and bonded; we carry $2 million liability insurance and workers' comp for your protection. Our fleet of trucks is fully equipped with the latest technology each job requires.
At First Choice, all of our sales managers, and technicians are fully trained and certified. We don't "farm out" jobs to other people or firms. We don't rely on fast-talking salesmen, either: in fact, the very manager who provides your estimate is the same person who will oversee your job, from start to completion. It's no wonder that nearly 40 percent of our work comes from referrals by satisfied clients! But there's more. As one of preeminent air conditioning and heating specialists in southern California, we not only offer all of the major brands of heating and air conditioning equipment, but since we do such a large volume with these manufacturers, we receive substantial discounts on their products - and pass the savings on to you. We are the Number One Rheem dealer in the area, as well as a Honeywell Perfect Climate dealer, specializing in air cleaners, humidifiers, and zone control - everything you need to make your home's environment perfect. You can even check out many of the actual products we offer right in our Van Nuys showroom.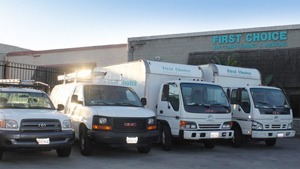 More important than our trucks, however, are the people who drive them. And at First Choice, we treat every customer, every sale and installation, with professionalism, courtesy and respect. That is why we protect your home with plastic before we do any work. That is why (unlike some other firms) we only require a ten-percent deposit for a job. And that is why, even during peak seasons, we give special priority to First Choice customers who need service. It is all part of our commitment to you.
Remember, there are lots of choices when it comes to equipment and installers. But only one offers you the best combination of service and value. Only one is First Choice.
Authorized Lennox Dealer
As a Lennox® Dealer, we are expert HVAC professionals trained to take care of any comfort issue you may have. Dave Lennox Premier Dealers are the best of the best. Every Dave Lennox Premier Dealer™ is trained to deliver a level of comfort and service no one else can match. Dave Lennox Premier Dealers realize that actions speak louder than words. So instead of just talking quality, they practice it through listening and responding to your needs.
BLOG

Read our blog! We are excited to share our thoughts about air conditioners and furnaces with you.
TESTIMONIALS

We appreciate the opportunity to provide our community with fine air conditioning and heating products, service, and maintenance, and thank you for choosing us, and for the kind words.

If you were happy with our service, please let us know! We'd love to share your comments!